Virtual Manufacturing can increase your efficiency 100%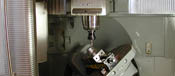 Virtual manufacturing is used to preview the machining processes by the help of developed process models. By this approach failures in the processes can be predicted beforehand. Also a process that is used in the production can be optimized by virtual machining.
The difference of this software from classical CAD/CAM is that one can monitor the physical aspects such as cutting force, power, torque, temperature distribution, surface errors, and stresses.
Maxima | Broaching Simulation | Machining Consulting | 5 Axis Milling | Broaching Simulation Software | Milling Simulation Software | High Speed Machining | Machining Simulation | Machine Tool Dynamics | Cutting Tool | Precision Machining